Leon Stolarski Wines feature some of the best wines that Languedoc, Roussillon, Provence and South-West France have to offer. We are registered as a Limited Company in the U.K. We are registered for V.A.T and all of our wines are imported directly from the growers in France, using the same transport companies as the major supermarkets and wine merchants. All wines are duty-paid on entry into the U.K and are kept in a secure storage facility, in an environment and temperature ideal for keeping fine wines.
---
Company Information
Leon Stolarski Fine Wines Limited
Registered address - 32 Nottingham Road, Hucknall, Notts NG15 7QE
Tel - 0115 9529387
Company registration number - 04941259
V.A.T registration number - GB 828 2622 24
A.W.R.S registration number - XWAW00000101258

---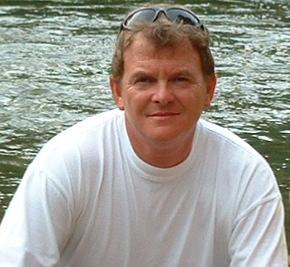 Our company Leon Stolarski Fine Wines Limited (trading as Leon Stolarski Wines) was founded in 2003. It came about as a result of a long held passion for wines, particularly those from the south of France, an area which is now gaining a much-deserved reputation for exciting and innovative wine making.
We are Leon and Diane Stolarski and we have been happily married since 1985. We have two sons, Alex and Daniel, and our family home is near Nottingham. Leon (left) is chief taster, buyer, importer, website designer, picker and packer, whilst Diane (below, right) looks after the books and helps taste the wines - it's a dirty job, but someone has to do it!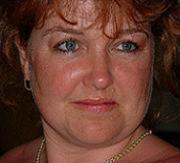 Part of the thrill of our annual family pilgrimage to France had always been the opportunity to visit the cellars of the wine producers and to taste the wines, before buying, in the very place they are made. Although my "mastery" of the French language is limited, to say the least, it is always a treat to meet with the winemakers in their cellars or "caves" and talk about their wines, their methods of making them, the flavours, the "terroir" of their particular region…… they are invariably proud of these things and are happy for you to taste the wines before buying. Some of our wine discoveries have come from articles in books, newspapers and magazines, others from recommendations by the owners of the properties we rent, or local people.
The information you need to find the place of production of a wine is almost invariably there on the label - all you need to do is look it up in the atlas! Of course, some of the more remote vineyards are not always that easy to find. But there's a certain eager anticipation in driving around deserted country roads, down bumpy tracks, or through narrow village streets, in search of your chosen producer. And it's possible to find superb wines that seldom see the light of day outside of their own region of production, let alone on the shelves of U.K shops.
In August 2003, we made a last-minute visit to a producer I had read about in a book by Rosemary George M.W, entitled "From Banyuls to Bellet - The Wines Of The South Of France". We sampled a variety of wines, ranging from excellent to sensational, in a cramped little "cave" next door to the producer's house in the middle of the village of La Liviniere. This village is situated in the best part of the Minervois, one of the up and coming regions of the Languedoc. The owner of Domaine Combe Blanche is Guy Vanlancker, a former schoolteacher from Belgium, who gave up his job and moved his family to La Liviniere. He bought some vines and, initially, sent his grapes each year to the local cooperative. Eventually, he bought some equipment and began to make some wine himself. He now has around 18 hectares of vines in production, from which he makes a full range of red, white and a rosé wines. He keeps the yields low, to retain concentration of flavour.

M.Vanlancker took us to see his cellar, where (glasses in hand) we tasted many samples of his various wines - a normal occurrence for a wine trader or writer, maybe, but a rare treat for an "amateur du vin" such as myself! I was amazed when he informed me that he had no outlet for his wines in the U.K - a travesty, considering the quality of the wines he makes. These wines are very special indeed (and you can find out more about them within this site).
As we left after our visit, I felt a real sense of excitement and decided there and then that it was time to do what I have always wanted to do - start my own wine business. M.Vanlancker's wines are extremely fairly priced, considering their quality. And I knew, as soon as I left, that we had stumbled across the opportunity to feature a range of wines that would be worthy of building a business around. These days, M. Vanlancker is known to us simply as Guy, since we have become good friends with he and his lovely wife, Isabelle.
And now, many years after that fateful visit, our list continues to include a full range of wines from Domaine Combe Blanche, together with a hand-picked selection of wines from many other growers in which we have just as much faith. As our list continues to grow, it's content is governed by one simple philosophy - we only offer wines that we ourselves are happy to drink, from small, independent growers whose emphasis is on quality wine production - and whose wines you will rarely (if ever) find on the shelves of supermarkets or High Street chains. Indeed, the majority of our wines are unavailable elsewhere in the U.K.
Our philosophy
Our list continues to grow, with wines from some of the best producers we have discovered over 25 years of extensive travelling in these regions. Our particular strength lies in the classic red blends of Languedoc and Roussillon, from grape varieties such as Grenache, Syrah, Mourvedre, Cinsault, Carignan etc, together with some exciting and unusual varietal wines that are a far cry from the ordinary fare to be found in most U.K supermarkets and wine shops. We now also have excellent selections of wines from Provence, Southern Rhone, South-West France, Burgundy and the Loire Valley. We continue to regularly add new wines, all of which must meet the strict criteria that we set. Put simply, we only sell wines that we are happy to drink ourselves, and at prices that we believe are a fair indication of the quality of the wine in the bottle.
We do not stock "agency" wines - that is to say, we import 100% of our wines directly from the growers (apart from the occasional "specials", sourced via the secondary market). We have visited all of these growers and tasted the wines, both in their cellars and again at home, in Nottingham. This way, we can identify the wines that stand the test of being drunk in our own environment - namely, the changeable British climate! The majority of the wines we list are exclusive to us in the U.K, and the ones that aren't are difficult to find elsewhere. Our aim is to become one of the U.K's foremost suppliers of these products - wines that have been hand-crafted by skilled and dedicated winemakers and provide a true expression of the region in which they are made.
---